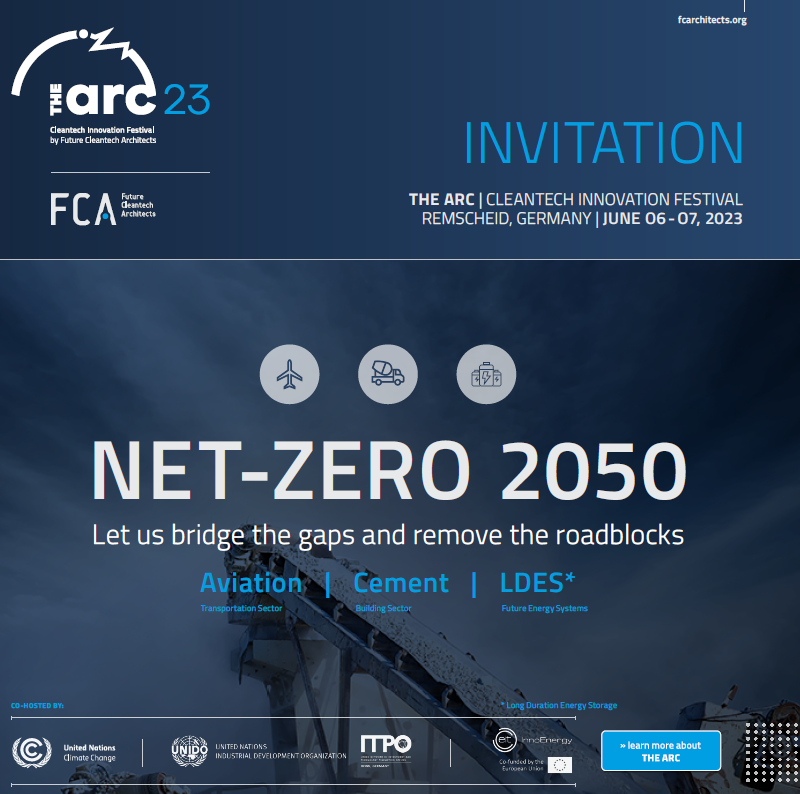 The arc23 INVITATION
Future Cleantech Architects cordially invites you to The ARC 2023, our cleantech innovation festival taking place in Remscheid, Germany, on the 6th and 7th of June.
Supported by our co-hosts from UN Climate Change, UNIDO, and EIT InnoEnergy, The ARC assembles the brightest minds and best ideas in cleantech worldwide. This year, we will particularly zoom in on the innovation processes in cement production, aviation, and long duration energy storage. Bringing together policymakers, researchers, innovators, as well as the private sector, we aim to identify specific steps that will remove roadblocks and bridge the innovation gaps to reach net zero by 2050.
You can find an overview of this year's topics in the attached invitation as well as the preliminary program of the first festival day online.
We hope you will join us in this ambitious endeavor and look forward to receiving your reply by the 3rd of May at events@fcarchitects.org.
Kindly note that attendance at The ARC is by invitation only, but we are very happy to extend invitations should you have any suggestions. Do not hesitate to contact us for questions.