Start
24. Juni 2022 - 0:00
End
2. Juli 2022 - 0:00
Mission
The project seminar addresses international alumni of Master's programs at German universities qualified in the fields of sustainability, ecology, and/or conservation. You are cordially invited to take part in the alumni project seminar in the context of the international alumni network ANESCo ("Alumni Network for Ecology, Sustainability and Conservation")!
The ANESCo group was established in 2013 for exchanging information and international project-related cooperation between established and ongoing experts focussing on sustainability, climate protection, ecology and nature conservation worldwide. After fruitful project seminars in 2013, 2015, 2017 and 2019 in Germany and Nepal ANESCo comprises more than 80 active members from about 35 countries worldwide (check: https://www.anesco-global.net).
Targets
Providing knowledge and skills on hot topics of sustainable development such as sustainable food supply, food security, and climate protection by inspiring exchange with invited experts and other alumni as well as visits of international institutions of development cooperation, higher education, and private enterprises.
Learning how to "Develop a successful crowdfunding campaign" and "Improve science-policy communication skills" by participation in expert workshops and self-organized group work.
Special focus on good practice examples from Costa Rica, provided by regional experts.
Be the change you are waiting for: Developing your own ANESCo crowd-funding-campaign and a partnership for a self-selected climate protection project in the global south.
Compensate at least 100% the own greenhouse gas emission footprint produced by the conference and traveling
Strengthening the international network between each other and with other experts and initiators of sustainability processes e.g. by further profiling and broadening the ANESCo group and by meeting representatives of HEIs, development cooperation, foundations, schools, policy, administration and NGOs.
The alumni project seminar will be held in English and host 30 alumni participants.
Conference Venue
 Arche Noah Marienberge – a holiday and conference residence close to nature
Our conference venue is situated in a rural area near the village Elkhausen not far from the town Siegen and ca. 100 km east of the city Bonn. (https://www.marienberge.de).
How to apply
Please submit
APPLICATION FORM (attachment)
short CV with photo (ca. 1 page)
short MOTIVATION LETTER including a description of your relation with and your expertise of sustainable food supply and climate protection (ca. 1/2 page)
short DESCRIPTION of an already existing CLIMATE PROTECTION PROJECT in the global south as a suggestion for the ANESCo crowd-funding campaign (ca. 1-2 pages). The description should entail: (1) Project location, (2) leading institu­tion(s), (3) Project objective & tools, (4) brief project history, (5) effect on climate protection (if possible including yearly greenhouse gas reduction in tons CO2eq)
Please read all information before applying
Please send all documents via e-mail until March 10th, 2022 to: tiemo@uni-greifswald.de.
Applicants of the STUBE network are requested to apply via: stube@dwbo.de
Contacts
Dr. Tiemo Timmermann
Coordination Landscape Ecology & Nature Conservation (LENC) – international
Greifswald University, Institute of Botany and Landscape Ecology , Germany
Tel: + 49 3834 4204112, tiemo@uni-greifswald.de
Esteban Chávez Guevara
STUBE coordinator
STUBE Berlin Brandenburg Development Education Programme, Berlin, Germany
Tel. +49 30 27572380, stube@dwbo.de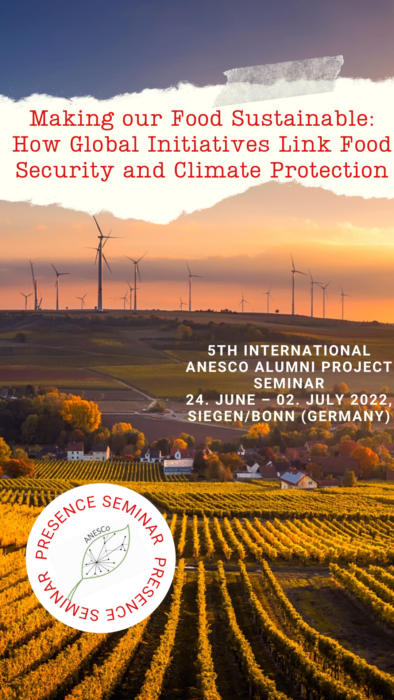 MORE DETAIL